Contact us
Tel:+86-0760-89829983
Fax:+86-0760-22551515
Phone:18933322298(Ms.Li)
Address:Zhongshan City Xiaolan Town East Cheung Street No. 12 lane two building (Sheng Habitat building) the first floor of building A
WeChat
General Glue Dispensing Machine
Current location:HOME>TD-500DY Desktop Double Y Axis Glue Dispensing Machine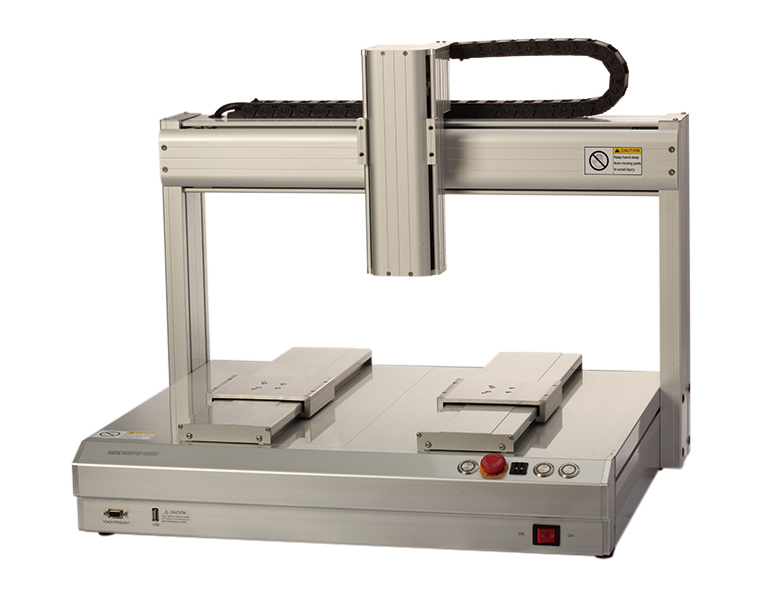 TD-500DY Desktop Double Y Axis Glue Dispensing Machine
Principle Description
Equipped double Y-axis with double fixture to make sure continuous glue dispensing while placing and picking work-pieces, saving the time of changing work-piece to improve the capacity greatly

Product introduction
Technical Parameters
Video display
Principle Description
Equipped double Y-axis with double fixture to make sure continuous glue dispensing while placing and picking work-pieces, saving the time of changing work-piece to improve the capacity greatly.
Machine Features
♦Desktop design with hand programming controller, easy to learn and operate;
♦Double Y-axis structure to make sure glue dispensing on one side and products placing on the other side at the same time;
♦The instructions can be copied and arrayed;
♦Equipped industrial PLC controller, for different glue with different settings ensure the best performance;
♦Glue flow is stable without leakage and drawing.
Suitable Glue:
Silicone, thermal conductive silicone grease, UV glue, AB glue, red gum, tin cream, epoxy
Applications:
Various lights, auto parts, digital products, optics lens, mechanic parts, semiconductor encapsulation etc.