Contact us
Tel:+86-0760-89829983
Fax:+86-0760-22551515
Phone:18933322298(Ms.Li)
Address:Zhongshan City Xiaolan Town East Cheung Street No. 12 lane two building (Sheng Habitat building) the first floor of building A
WeChat
Round Glue Dispensing Machine
Current location:HOME>JD-80 Eight-station Round Glue Dispensing Machine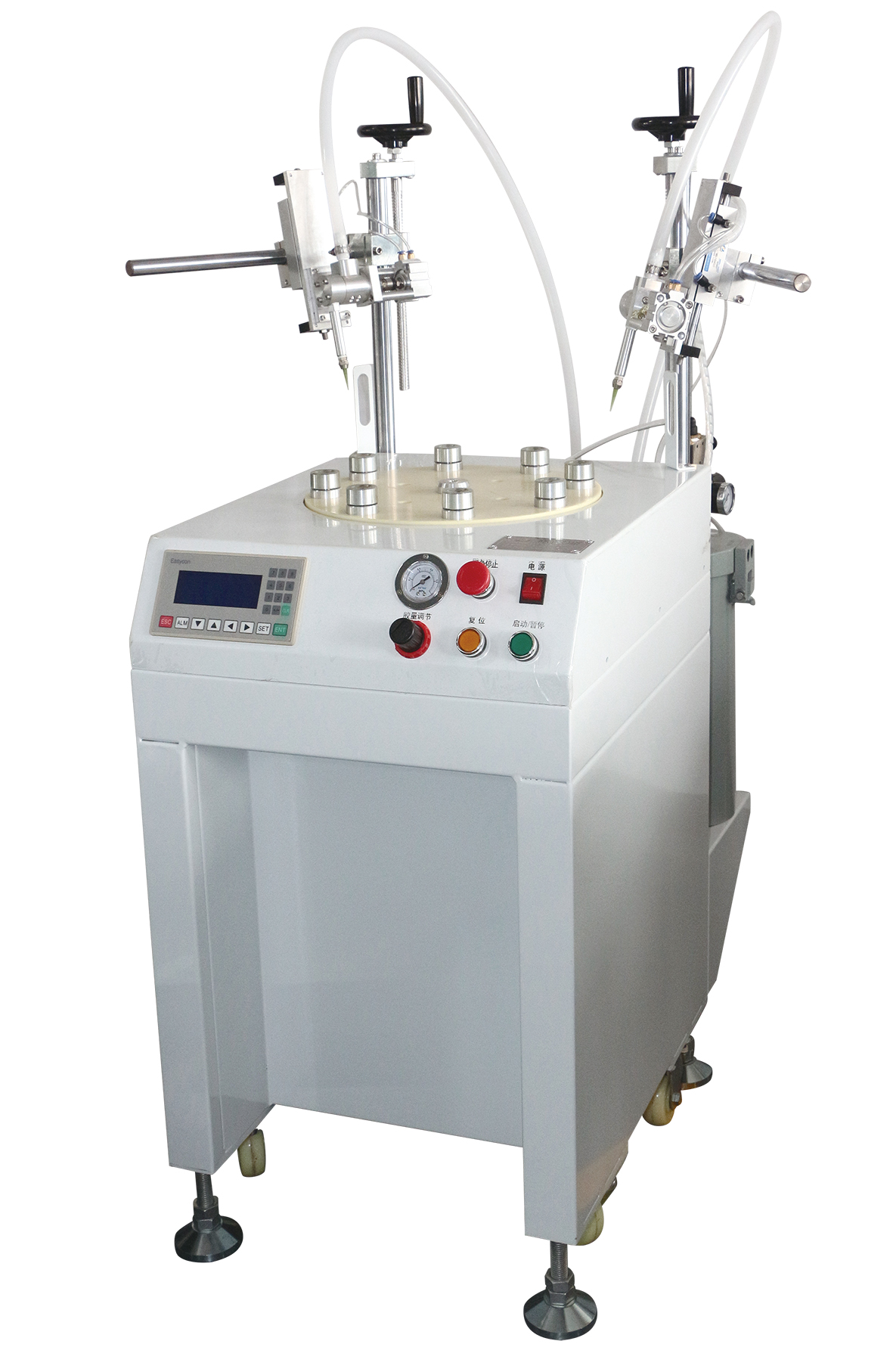 JD-80 Eight-station Round Glue Dispensing Machine
Principle Description
Eight stations are distributed on the revolution disc by 45 degree. The revolution motor rotates 90 degree each time to bring two work-pieces to the gluing nozzle. Auto-revolution motor drives two work-pieces rotating in average spe
Product introduction
Technical Parameters
Video display
Principle Description
Eight stations are distributed on the revolution disc by 45 degree. The revolution motor rotates 90 degree each time to bring two work-pieces to the gluing nozzle. Auto-revolution motor drives two work-pieces rotating in average speed to achieve evenly glue coating.
Machine Features
♦Floor stand design with caster, the machine is stable and easy to move;
♦Eight stations work in cycle with two glue dispensing system, the designed capacity is 1500~2000pcs/h;
♦Equipped work piece detector to decide gluing or skip for each system;
♦ Gluing track can be set as full circle, single point or segmented arc etc.
♦ Working mode can be two-station, four-station or eight-station;
♦It is easy to learn and operate with touch screen and buttons, for different glue with different settings ensure the best performance.
Suitable Glue:
300ml/2600ml single-component package for silicone, thermal-conductive silicone grease, UV glue, AB glue etc.
Applications:
Round lights, such as LED bulbs, candle light, T8 glass tube cap, round panel light, PAR light etc.